Historic Koshien Stadium in Nishinomiya is the oldest and most famous ballpark in Japan and the home of the Hanshin Tigers. It was built in 1924 and has been the scene of many great baseball feats over the years.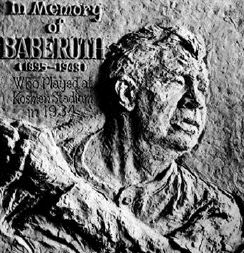 Plaque at Koshien honoring Babe Ruth
Babe Ruth even played there once - in 1934, when a visiting major league team came to Japan to play a series of exhibition games.
Koshien is the scene of the spring and summer high school baseball tournaments (simply known as "Koshien"), which are televised live throughout Japan and which attract a huge audience. To play at Koshien is the dream of all young Japanese baseball players!
Even though it has the best maintained outfield in Japan (yes, real grass!), the "sacred" Koshien dirt sometimes provides nightmares for the infielders. And the stadium itself is showing its age and really needs a facelift. The seats and aisles are extremely narrow, there are no private boxes, and the amenities are pretty basic. (There are renovations planned for the end of the 2007 season.)
Even so, it's still worth going out there to cheer the local team and to soak up the atmosphere of the place.
From Osaka, simply get on a Kobe-bound Hanshin Railway train to Koshien station. The journey takes about 15 minutes. The ballpark is a short 3 minute walk from the station - just follow the crowd.
Ticket prices range from 1400 to 3500 yen (a little more when the Giants are in town), with kids' tickets starting from 500 yen. You can buy tickets at the ground or at one of the many general ticket outlets in Kansai. But if the Tigers are playing well, you'll have to book well ahead!