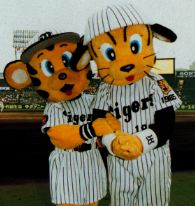 Lucky (left) and To-Lucky
The Hanshin Tigers mascots are "To-Lucky" (or "Trackey" or "Torakki") and "Lucky". They come to every home game and help cheer the team on with their enthusiastic antics. Trackey always entertains the crowd with unbelievable acrobatic feats, including backflips and a Spiderman act where he launches himself at the wire fence and tries to hang on - and gets chided by Lucky for showing off.
Of course they're the best mascots in Japan (much better than those silly Yomiuri Giants creatures - whatever they're supposed to be - big orange cockroaches, perhaps?).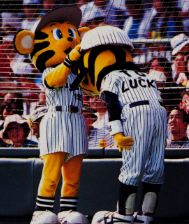 To-Lucky and Lucky are featured in the scoreboard graphics at Koshien Stadium. Produced by Magnetic Dreams.