The back side of it says;
This book is a detailed account of the remarkable career of this controversial band. Illustrated with both colour and black & white photographs, it is packed with quotes, memorabilia, collectables, rarities and comprehensive discography of both official and unofficial releases. A must for all Cure fans.

You can find it to be an elaborate fanzine-style, at a glance. And contains lots of full-colour pictures and Robert's handwriting by his inspirations on some words.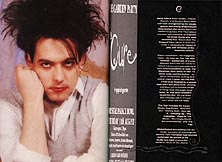 Click the pictures to see
their larger versions.
[cover: 38K, double-page: 53K]