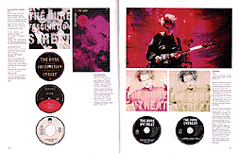 Click the pictures to see their larger versions.
[cover: 48K, double-page: 43K]



The back side of it says;
An exhaustive illustrated guide to The Cure's records from "Killing An Arab" in 1978 to the present day, compiled by noted Cure collector Daren Butler with the co-operation of The Cure themselves. Includes details and colour pictures of over 300 singles, LPs, CDs, limited editions, promotional discs, acetates, videos and Cure artifacts released throughout the world, with special emphasis on rare, unusual and collectable items. The Cure On Record features the very rarest and the most sought-after Cure pressing and sleeves, together with newly researched information about many release. All labels and sleeves are illustrated in full colour.

It is one of my favourite books, because it has obviously great purpose and written very earnestly. However, The Cure has released a number of items all over the world, so it's too hard to edit all of their releases just into one book.
Actually, I notice that there are at least several misunderstandings about Japanese releases in this book. I've already reported about them to the author. And now here is good news! Guess what? It's in the middle of update according to The Cure's official newsletter "Curenews 19".

"Curenews 19" says:
Daren Butler is currently working on a new book, the follow up to 'The Cure On Record'. It will be completely reworked and updated with some help from Robert. There is no release date as yet, but if you find anything rare and cure related, please write to me with your discoveries and I will pass them onto Daren to be included in his new book.


Cure international information service

Chris


Po box 211, hayes, middlesex, ub4 9nz England