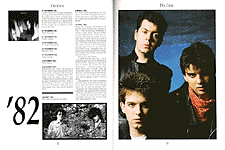 Click the pictures to see
their larger versions.
[cover left: 21K, cover right:22K,
double-page: 43K]



Exclusive Distributors:
Book Sales Limited 8/9 Frith Street, London, W1V 5TZ, UK
Music Sales Corporation
225 Park Avenue South, New York, NY 10003, USA
Music Sales Pty Limited
Lisgar House, 30-32, Carrington Street, Sydney, NSW2000, Australia




The back side of the first edition says;
The Cure Visual Documentary is a lavishly illustrated biography on the band which includes a year by year chronology, masses of quotes from their numerous interviews, album and concert reviews, a comprehensive discography and full gig listing.

Well, but the book isn't accepted by The Cure themselves. In fact, it's incorrect and unfaithful. Though it includes lots of absorbing photographs... It was updated in 1993. Some information and discography 1988-1992 were added to the previous edition.