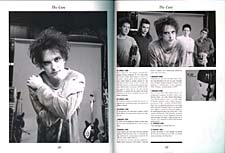 Click the pictures to see their larger versions. [cover: 32K / double-page: 26K]



Italian edition. Although its title is written in Italian, the cover of the book clearly shows that its original copy is the new edition of the English book "The Cure - A Visual Documentary". Actually the first 109 pages of the book are almost the same as of the English book, just translated into Italian.
Because the original text was written in 1993, the Italian publisher updates its biography and discography. They add some information between September 1992 and May 1996. Also over 20 pictures are added. Several pictures were taken in 1996, but others were taken between 1984 and 1986. Those old pictures have nothing to do with the text, and all of the additional pages are printed in black and white.