Russian edition. It's one of the most amazing books on The Cure in the world. The most thick Cure book I've ever obtained looks just like a dictionary. Includes a lot of information of The Cure written in Russian, their biography, and all of English lyrics from "Killing An Arab" to "Wrong Number" which has Russian translation in the opposite page each. It also carries both official and unofficial discography. All pages are printed in black and white with several pictures of The Cure and some illustrations under the influence of the Cure's songs.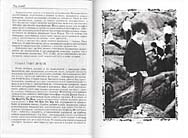 Click the pictures to see their larger versions.
[cover: 28K, double-page: 53K]


Special thanks to Fozzie.