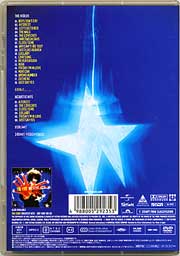 backside : Click the picture to see its larger version [51K].




picture DVD : Click the picture to see its larger version [25K].
An announcement about a release of the DVD in Japan is a welcome news for every Japanese Cure fan who likes watching the Cure's videos. Because the DVD has a regional code, Japanese DVD player can't play any DVD made in Europe or USA. And then, there's an announcement that laser disc player were no longer manufactured. I was so shocked to hear that, because I love all of the Cure's laser discs so much. Obviously, quality of picture with laser discs is far better than VHS videos. So I expected the Cure's first DVD with the same good quality of picture as the laser disc though..., I have to say I am so disappointed the picture of the DVD. I don't know what they left, but some of video clips are not clear and sharpen, actually, worse than VHS video!
I hope and pray my laser disc player will last long... And then hope all of the Cure's laser discs will be released as DVD with the same quality of their pictures. Anyway, I love its extra tracks part though... Yes, the Acoustic Hits is!!! Since I'm always keen on watching the Cure's live, it's only natural that any of the Cure's live pictures pleases me so much!

On 19th February 2003, it was reissued as a limited edition at bargain price. Its catalogue number is "UIBP-9005". The DVD disk's the same as first edition but it does not include the 4 pages color booklet.