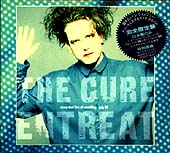 How I wanted to listen to it, when I first heard about a Promo CD called "Entreat"... Because it was a Live Album recorded The Cure's great show at Wembley in July 1989. Originally, this CD was offered as part of the promotions by CD sellers in UK and France, so here it got actually one of the hardest releases to find for the Japanese Cure fans at the time. No singles from "Disintegration" were released in Japan, so we had trouble even listening to some of the songs in "Entreat" released as B-side of them.
In June 1991, finally "Entreat" appeared commercially here in Japan as in a limited edition. It's issued as a picture CD in a custom box including a 32-page full colour booklet. I listened to the CD in excitement and soon it became one of my favourites. All of their live performances on it moved me so much, as not to express how I felt about it then.

Now I have to mention its booklet. It is the only one meaningful booklet made by Polydor in Japan. As its cover says "The Cure A to Z", it imitates a kind of a dictionary. About 30 words related to The Cure appear from A to Z, and each of them has its detailed or simple explanation. For example; look at Section-J, "Japan Tour - The Cure have done their Japan Tour once. They played at Osaka Sankei Hall on October 15th 1984, and at Nakano Sun Plaza on October 16th and 17th 1984. A large audience enjoyed the shows."
Originally this "A to Z" thing appeared as one of articles on a Japanese music magazine, "Music Life" in 1988. The booklet directly includes all of the article (but its discography section is updated), and some additional sections for other words. Although it has some mistakes, I always enjoy to read it. Because it's The Cure's information written in my mother tongue! Also the booklet has lots of beautiful pictures of The Cure taken from 1986 to 1991. I like them, especially several pictures taken in The Cure's show in 1986.