Front: Click the picture to see its larger version [47k].



Out Of This World [6:43]
Watching Me Fall [11:13]
Where The Birds Always Sing [5:43]
Maybe Someday [5:06]
Coming Up [6:26]
The Last Day Of Summer [5:36]
There Is No If... [3:43]
The Loudest Sound [5:09]
39 [7:18]
Bloodflowers [7:28]




CD: Click the picture to see its larger version [36k].




A part of the promo copy's CD which has a word "SAMPLE" on it.



Obi: Click the picture to see its larger version [44k].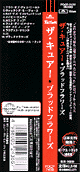 Polydor POCP-7458
2nd February 2000


This album was released on 2nd February, 2000 here in Japan. It's the earliest release in the world, 12 days ahead of UK release. Moreover it includes an extra track "Coming Up" in the middle of it, which is maybe one of the future B side songs. Releasing earlier and adding one or more extra track(s) are common methods of Japanese CDs because Japanese labels believe that they are usuful to sell their CDs at high price. In Japan, most of album CDs are sold for about 2550 yen (approx. US$24.50) but you can buy import CDs about two-thirds of its price here.



I've listened to both European and Japanese version of the Bloodflowers. And I don't hesitate which one I prefer. I love the European copy more! Though... it's not because I listened to the European version earlier than Japanese one and couldn't adapt myself to the different tracks list. And it doesn't mean the "Coming Up" is a bad song. On the contrary, I love the song and learned it really awesome played loudly when the club night by the Cure fan club in Japan. However, it just disturbs the whole atmosphere of the album... I love a part where "The Last Day of Summer" begins on the heels of "Maybe Someday" in the European version.



Everytime I listen to the whole album, I always skip "Coming Up" and listen to it later alone. I hate the most of Japanese labels always force bands to add one or more extra track(s) to their Japanese copies. Those labels don't care about art but their sales. However, I have to admit certain power of their successful sales. If the Japanese copies of the Bloodflowers make a big sales, it will help to materialize a Cure Japan tour in the future. According to Polydor in Japan, one of the reasons The Cure didn't come to Japan in 1996 was a poor sales of the Wild Mood Swings. So I hope the Bloodflowers will be sold a lot here. The Cure have not played in Japan since 1984. Lots of Japanese Cure fans have been waiting for The Cure to come here almost 16 years. It's too long... and I just keep my fingers crossed... our dream comes true in the near future.




Back side of the promo copy has a red sticker which says "Sample Disc" and "Not for Sale" in Japanese.
Click the picture to see its larger version [51k].