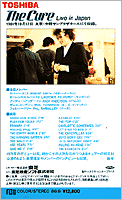 reverse



Click the picture of the front
or the reverse
to see their larger versions.
[front: 26K, reverse: 65K]

I still remember clearly how excited I was when I noticed four cameramen started to take The Cure's show.
It was on 17th October 1984 at Nakano Sun Plaze in Tokyo. Honestly, that was my first experience to see their live performances. There was little information about The Cure's live here in Japan in those days, so I was much surprised to see that Robert intensely played guitars singing all of the songs. He even played a violin and a recorder. I will never forget the show in this point.



This official video doesn't include only The Cure's live performances but also one interview with The Cure, and some scenes of the backstage and soundcheck. Although this video wasn't edited quite well, it surely recorded a true picture of The Cure at that time. However, The Cure didn't release this video in any countries but Japan. As you can read that they mentioned its plan in their official newsletter "THE CURE ADVENTURES AND PLANS NUMBER ONE", The Cure were going to release the video widely. But, why not?



The Cure came to Japan again in 1987, during the promotion-tour for their album "Kiss Me Kiss Me Kiss Me". Robert confessed in an interview with him in a Japanese music magazine, that he was taken ill during the Japan tour in 1984. I wonder if Robert wasn't satisfied with his live performance and didn't think it deserved to be released as the video. Was it the reason? Who knows..... Anyway it's a thousand pities that he was ill, recording The Cure's first official live video, but I must say one thing. Robert must have tried to play and sing as good as he could in spite of the fact he was in such a bad condition. His earnest play truthfully impressed a lot of Japanese Cure fans.