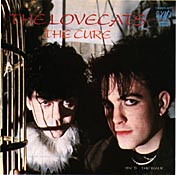 front side of paper




backside of paper




sleeve


label

VAP 15004-07
January 1984



This was the second single of The Cure here in Japan, which appeared in January 1984. Its B-side was different from UK copy of "The Lovecats" because it was made up for the album "Japanese Whispers".
In Japan, VAP, an independent label, didn't release the following common singles; "Let's Go To Bed", "The Walk", "Upstairs Room" and "The Lovecats". Instead, VAP planned to combine those singles into a mini-LP, and they selected the most popular two songs for a 7 inch single. The Cure/Fiction accepted the plan and then Robert named it "Japanese Whispers". Fiction was so pleased with the plan that "Japanese Whispers" was widely released all over the world. Though Japanese copy appeared a month later than in UK...

In Japan, the singles' sleeves were mostly cheaper than import ones. Japanese labels made use of the original sleeves with their logotype to all of their releases.
They just put a sheet of paper and the sleeve in a plastic bag. The front side of the paper printed in colour said the band's name and the title with a picture as the cover, and the backside of it said the songwords.
Sometimes the songwords of Japanese releases had terrible mistakes, see this single's version of lyrics "The Lovecats" at the bottom of this page! You can't help laughing! It seemed to be transcribed by a Japanese translator without proofreading. Needless to say, the translation was intolerable.