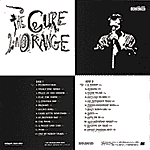 4-page booklet with lyrics in it.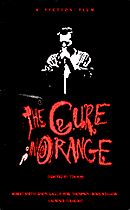 24-page pamphlet
made for the film showing.
I've met lots of Japanese Cure fans who became The Cure's followers after seeing this video or the video "Show". It goes without saying that The Cure is one of the best perfomers in the world. Their performances even in the videos make a lot of people huge Cure fans. So I can't help wondering if only The Cure had come to Japan in February1988 or September 1996 as Robert said in some interviews..., there could be more and more Cure fans here in Japan now.
Anyway, I must back to the subject. The video "The Cure in Orange" was released in Japan in 1988 ten months late than England. It wasn't showing at any theatres in Japan then. Since I wanted to see The Cure's concerts so much, I was very disappointed that I couldn't see the film on the screen. But I got its laser disc as soon as it's on sale and saw it as frequently as I can't count.
In 1989, finally the film "The Cure in Orange" was started to show at some small theatres in Japan. It's around time that the album "Disintegration" was released. Several Japanese magazines carried interviews with Robert then and some of them asked Robert about "The Cure in Orange". I suppose that he didn't even think being asked about such a past event then. I heard that it was showing in Tokyo, Osaka, Fukuoka, Nagoya and Sapporo. Here in Tokyo, it started to run on 1st March 1989 at the BOW theatre in Kichijyouji. But it ran for only several days and its timing was too bad for me. Because of sudden illness, I couldn't go... (sob...)
There's a 24-page pamphlet made for the film showing. A friend of mine bought it for me. It includes The Cure's discography, biography and the profiles of The Cure members and Tim Pope with beautiful colour pictures. Everytime I see the pamphlet, it makes me want to watch the film on a large screen ! Although I nearly give up the film re-showing someday, the pamphlet is still one of my Cure treasures.