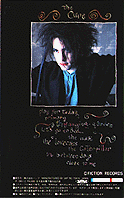 reverse

I jumped for joy, when I saw an ad for this video in a music magazine in 1985. It's just a collection of nine of The Cure's videos, but in Japan we had few opportunities to see their videos at that time. I saw each of them in it for the first time, except "The Lovecats", "The Caterpillar" and "In Between Days". Actually it was my favourite video then, I frequently saw it until another compilation-video " Staring At The Sea" was released.

I heard that its title was named by Robert himself. "Tea Party" sounds so lovely and it really appears to be The Cure, doesn't it?
I like it so much and for this reason, the video is still one of my greatest treasures.