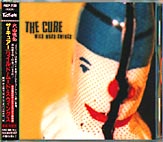 Want
Club America
This Is A Lie
The 13th
Strange Attraction
Mint Car
Jupiter Crash
Round & Round & Round
Gone!
Numb
Return
Trap
Treasure
Bare
It Used To Be Me






A part of the promo copy's CD which has a word "SAMPLE" on it.

Polydor POCP-7130
25th May 1996


This CD includes an extra track at the end of it, which is "It Used To Be Me" one of B side songs taken from the single CD "The 13th".
Adding an extra track to Japanese CDs is a common way, because Japanese labels believe that it is the only way how to sell Japanese CDs. (Japanese CDs are so expensive but you can buy import CDs two-thirds of a cost here in Japan.) However, that so-called way involves some risk, sometimes it spoils an album itself. Imagine "Mint Car (electric mix)" follows "Bare"!
I'm sure that The Cure must have considered which song should be added to their Japanese album, and chosen "It Used To Be Me" carefully not to spoil the album itself.
This CD must be called another "Wild Mood Swings". Obviously its mood is different, and then I say "Yeah, I feel that good!". Though I prefer "Bare" the last song of the album...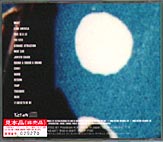 Back side of the promo copy has a red sticker which says "Sample Disc" and "Not for Sale" in Japanese.