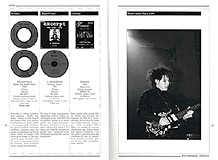 Click the pictures to see their larger versions.
[cover: 20K, double-page: 33K]



French edition. It is an illustrated guide to The Cure's releases from "Killing An Arab" in 1978 to "Mixed Up" in 1990 from all over the world. Although the book is printed in black and white, it is edited and layouted very well as a discography.
It has over two hundred photographs of The Cure's unique releases, which includes a few rare ones like a white sleeve of a UK promo copy "Birdmad Girl/ Shake Dog Shake/ Bananafishbones" or a Greek cassette "The Top". Neither of them is carried on the book " Cure On Records". The book also has 25 great photographs of The Cure.