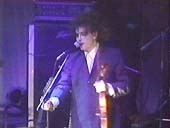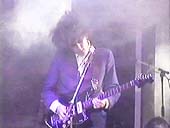 A special program of The Cure was broadcasted by Wowow, a satellite TV station in Japan on 4th January 2001. The program was a live video recorded at Barrowlands, Glasgow, Scotland on 25th August 1984.
The songs played in the program were;
Shake Dog Shake - Primary - The Walk - The Hanging Garden - One Hundred Years - Give Me It - A Forest - Piggy In The Mirror - Happy The Man - Play For Today - The Caterpillar - 10.15 Saturday Night - Killing An Arab
I have a video tape with the first 6 songs broadcasted in England as a 25 minutes long program, but I saw the rest of the songs for the first time in my life. I was so *happy* to watch "Happy The Man" played on TV! But that's a pity it was hidden somewhere on a high shelf for 16 years... There must be a lot more unknown films or videos of The Cure all over the world. Hope they will appear in the near future...



Pictures (some more pictures captured from the program)