December 5th 1997
CIC Victor Video (PMT 35011)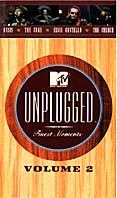 Two video tapes titled "MTV Unplugged Finest Moments Volume 1 & 2" were released here in Japan in1997.
As the title says, it's a series of video tapes compiled several excellent scenes from the well-known program "MTV Unplugged". Each tape includes 9 songs played by various musicians, and the Volume 2 carries The Cure's "Just Like Heaven" recorded at the Limehouse Studio in London, January 24th 1991. Also a small picture of Robert appears on its front cover, sandwiched between Oasis and Elvis Costello.