October 25th 1998
east west japan (AMCY-2880)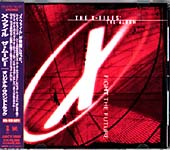 Finally, soundtrack CD "THE X-FILES: THE ALBUM" was released in Japan four months after in America released.
Includes The Cure "More Than This". It has the obi and the lyric sheet written in English and Japanese, but the lyric of "More Than This" has lots of mistakes in it. Obviously, it's not proofread by Robert himself.